Articuloud for iOS
Articuloud also has an iOS app, designed to give you access to your high quality, personal phrases during those times you find yourself without an online connection.
You can download the App directly from the app store.
When you've downloaded and start the app, you have two options, you can log in with your existing Articuloud account, or you can use the app without an account.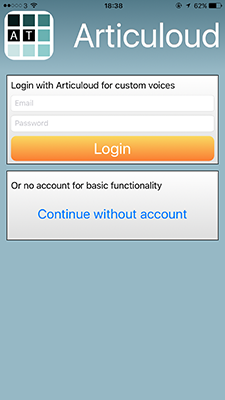 If you log in to the app with your existing Articuloud account, the app will automatically download all of your stored phrases into it, and store them on your device for use when you are offline.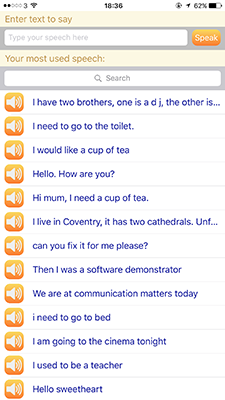 Using the app is as simple as using the site. You can use the "search" box to narrow down your existing phrases, the more letters your enter, the quicker it will find the phrase you want.
As you can see, if you enter "to" in the search box, you get all of the phrases with "to" in, but if I enter more letters, such as "Cov", you get the one unique phrase back with "Cov" in it.
Once you've found the phrase that you want to speak, simply press the blue text to speak it!
Any new phrases you want to say, that aren't in your existing phrases will be converted using your chosen voice automatically (if you have an internet connection) and played, and at the same time stored within your account for next time.
If you don't have an Internet connection, the app will use your device's iOS voice to generate the speech.
If you choose to use the app without an Articuloud account, the app behaves in a similar way, however it will only use the device's iOS voice, and will not store phrases.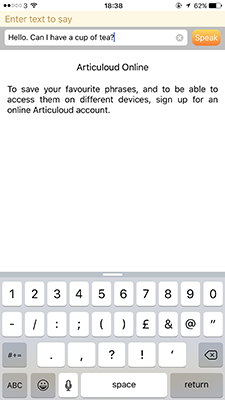 Any phrases created with an online login, even a trial period login, will be downloaded into the app, if you choose to log in to the app. Once downloaded, created phrases will not expire, so you will have access to them, even if your online subscription has expired.